For today's visit, we are digging deeper in Osaka and the city's history.  Let's visit Tamatsukuri Fushimi Inari shrine.  
You probably have already heard the name "Fushimi Inari" right ? you know, THE shrine in Kyoto famous for its +1000 red torii gates. Well, there are in fact hundreds of Fushimi shrines around Japan.  Kyoto's Fushimi happened to be the head shrine, but today we will visit one of Osaka's Fushimi Shrines.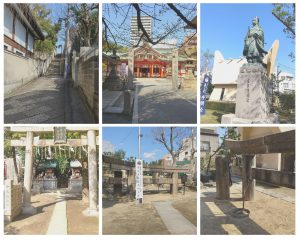 Situated just 5 min walk from Tamatsukuri station ( near Osaka Castle).  Even though the shrine is quite small, it has a long and interesting story:
Due to its location ( near Osaka Castle), Tamatsukuri was at the center of the "Osaka siege" during the Sengoku war. The siege of Osaka Castle was a series of battles undertaken by the Tokugawa shogunate against the Toyotomi clan (powerful samurais), and ending in that clan's destruction. 
You will be able to find some interesting remains of this epic battle around the shrine. 
Tamatsukuri fushimi Inari shrine is said to have a 2000 years history but the current buildings are post-war reconstructions. As often with Japanese shrines, you will find a main shrine, and many sub-shrines on the same grounds.  At Tamatsukuri, you will find 2 interesting "power spots" ( spiritual spots).
Yonazuga Daimyojin sub-shrine:  Yonazuga  can be translated as "placenta" ( yes I know!, Yuk!). It is said that Toyotomi Hideyori's mother's placenta was buried here after she gave birth to him. It is believed that the bond between  a mother and child can not be destroyed, and therefore today, Yonazuga Daimyojin serve as a deity for people who want to strengthen their bonds: was it love, work, friendship or anything else. 
The next "must-see" at Tamatsukuri Fushimi Inari Shrine ( and my favourite) is the Torii you can see at the back of the shrine. The Torri has a long history and a deep meaning for the people living in the area. 
After the Winter siege of Osaka, the grounds around the castle were on fire and everything was destroyed except this torri, an offering from Toyotomi Hideyori. The torri stood strong for hundreds of years near the Castle, it also survived the War Bombing above Osaka until it finally fell after the Kobe earthquake of 1995.  After the devastating earthquake, the remaining top part of the torri was moved to Tamatsukuri shrine. It is now a symbol of strongness.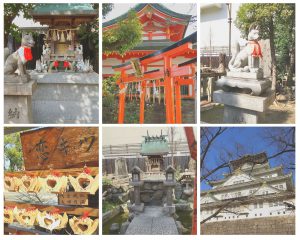 As any other Fushimi Inari shrine across Japan, you will find a lot of cute foxes statues and Ema ( wooden wishing plates) around the shrine.  The ema you can find here are particularly cute : 2 foxes "bonded" together in a heart shape.  A must get for anyone who wishes for a strong love bond! 
Off the beaten tracks, Tamatsukuri Shrine will make a nice, short visit in the middle of one of Osaka's busiest districts.
After visiting the Tamatsukuri Fushimi Inari Shrine, why don't you continue your exploration with the Osaka Castle and Park. Both are just a 5 min walk from the shrine. 
See you soon with another  Osaka's adventure !